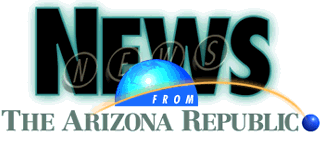 ---
SCHOOL RIVALRY GETS UGLY
CATS, PIGEONS KILLED
By Abraham Kwok
Staff Writer
The Arizona Republic
Thursday, October 24, 1996
On the eve of their homecoming football game last Friday, two Highland High School students snatched a cat off a front lawn and tied a rope around the feline's neck.
They intended to give the Gilbert High Tigers a pregame show few would forget.
As the cat's 16-year-old owner screamed and gave chase, the teens peeled off in their truck -- dragging Sylvester the cat in tow.
They killed Sylvester and a kitten, then, with a third teen, broke into Gilbert High in the dead of night and hanged the carcasses in a classroom. On a chalkboard they scrawled, "We're going to run you pussycats over."
Across town, a couple of Gilbert High students were engaged in similar depravity. They had caught and killed a couple of pigeons and sneaked onto the rival campus in Gilbert to give the Highland Hawks a sight to behold.
They hanged the dead birds outside the cafeteria windows and attached a note promising, "We're going to 'pluck' you guys."
Authorities aren't amused.
Gilbert police on Tuesday detained three Highland students, all 17-year-old boys. Each faces one count in juvenile court of criminal trespassing, and two of the three face animal-cruelty charges for killing the cats.
Gilbert High Principal Charles Santa Cruz is preparing to discipline two students for the pigeon killing. Police aren't involved.
Educators at both campuses expressed embarrassment and disbelief Wednesday. None of the students involved is on the football team.
"It's just a football game, for crying out loud," said Kevin Fagan, Highland's athletic director. "To kill an animal for that?"
Friday night, Highland beat Gilbert, 60-13.
But for Lisa Hayes, a Highland freshman and Sylvester's owner, and her family, the victory was a tarnished one.
"It wasn't much of a homecoming for our cat," said Lisa's mother, Nancy Pelliteri.
The family buried Sylvester in the back yard.
***