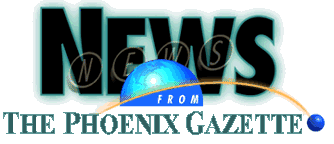 ---
Jail birds are in for a shock
Electronic mesh designed to zap pigeons
By Ben Winton
Staff writer
The Phoenix Gazette
SATURDAY, SEPTEMBER 30, 1995
Maricopa County's Madison Street Jail finally got rid of about 600 pesky jail birds -- the feathered variety.
At a cost to taxpayers of about $50,000, crews on Friday installed electrified wire mesh along vents that had been a popular hangout for pigeons.
It is hoped the mesh will end the county's years-long struggle over what to do about the birds, whose droppings prompted inmates to threaten to sue if they got sick. Animal welfare activists who had protested the county's earlier proposal to poison the birds were on hand to rescue any baby birds.
They said they were pleased with the decision to give the birds a little shock therapy, instead of poison. Eventually, the birds will be "trained" to stay away from the jail.
The activists had not rescued any baby pigeons Friday morning. A pair of peregrine falcons that roost in a nearby high-rise apparently made dinner out of them.
"I don't think you'll ever get rid of all the pigeons," said Dave Roth of the Urban Wildlife Society, which sought to save the birds. "But this is the most effective, humane way of controlling the problem."
The jail's neighbors, particularly those in Phoenix City Hall one block to the north, may not be too happy about one side effect, however.
Roth said the birds likely will find new roosts as close as possible to their former hangout. The birds like wide ledges that provide shelter from sun and rain, and City Hall's design is the most likely to appeal to them, he said.
Why rescue an animal that most urban workers despise?
"They're so sweet. They're like puppies. They cuddle up to you. They follow you around. They're so people oriented," Roth said.
To prove his point, activists brought along a month old pigeon that they found on a nearby street. It is blind and deaf. They named it Helen Keller.
Helen nuzzled and cooed oblivious to her relatives getting the boot 50 feet overhead.
"She thinks she's a person. Once they imprint on humans, it's hard to get rid of them," one of Roth's co-workers said. "How could you not love one of these," she said, stroking the bird's beak.
***